Experience History With a Stay in the Region's Finest B&Bs
Enjoy the Forest region's finest B&Bs for a business trip, romantic getaway, or an active weekend playing in the great outdoors.
LOCAL
Blackberry Inn
Stay at a historical landmark – the Blackberry Inn, a 1880s Queen Anne style B & B located at 820 West Main Street in Smethport, Pennsylvania. Located on Scenic Route 6 within the Smethport Mansion District, this charming Victorian Inn is only a short distance from the Kinzua Sky Walk, and within walking distance to great fishing at Hamlin Lake, downtown restaurants, and a variety of hiking trails.
Blackberry Inn
820 West Main Street
Smethport, PA 16749
612-940-4014
---
Gail Eustace Dupont Guesthouse
With a 12-foot-high cathedral ceiling and windows on three sides, the Gail Eustace Dupont Guesthouse is spacious, and has beautiful mountain views. This modified chalet has a cozy tree house feel. You will relax the moment you walk through the door and you'll get a great night sleep on a new king size bed.
Gail Eustace Dupont Guesthouse
109 E. 7th Street
Coudersport, PA 16915-1712
717-798-7487
---
Inn on Maple Street Bed & Breakfast
Relax and enjoy the small town atmosphere of yesteryear in the beautiful mountains of northwestern PA.
The Inn on Maple Street Bed & Breakfast
115 E. Maple Street
Port Allegany, PA 16743
814-642-5171
---
Kane Manor
The Kane Manor, a national historic landmark built by General Thomas L. Kane, awaits your arrival.
Kane Manor
230 Clay St.
Kane, PA 16735
888-550-6522
---
Mountain Laurel Inn
Old world elegance with all the amenities – the white wicker rockers and porch swing await your arrival.
The Mountain Laurel Inn
136 Jackson Avenue
Bradford, PA 16701-1630
814-362-8006
---
Oz's Homestay
You'll appreciate Australian hospitality and a warm welcome at Oz's Homestay on 296 Faulkner Road in Shinglehouse, Pennsylvania. Located near the Allegheny National Forest in the beautiful Oswayo Valley, Oz's Homestay is perfect for a romantic getaway, or an active weekend playing in the great outdoors.
Oz's Homestay
296 Faulkner Road
Shinglehouse, PA 16748
716-378-2211
---
Westline Inn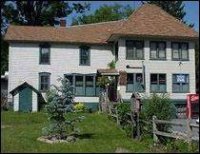 For over 50 years, the inn has welcomed travelers, sportsmen, hunters and businessmen with consistently great food, convivial spirits, and comfortable lodging in a friendly atmosphere.
Westline Inn
3 miles off Route 219
Westline, PA 16751
814-778-5103
---
NEARBY IN PENNSYLVANIA
Gizmo's B&B
Located deep in the Allegheny National Forest, Gizmo's is located at 108 Gizmo Drive in Wilcox, Pennsylvania. Experience one of the most remote and scenic areas in Pennsylvania. Gizmo's offers a guest efficiency apartment with access to a beautiful dining room, where you will be treated to a delicious breakfast in the morning. Gizmo's offers daily, weekend, weekly, and monthly rates.
Gizmo's B&B
108 Gizmo Drive
Wilcox, PA 15870
814-929–9978
---
Potter County Gasthaus
Find the Potter County Gasthaus on 194 Clara Road in Shinglehouse, Pennsylvania, in the heart of the Oswayo Valley. Nightly and weekly rentals are available. Five rooms will comfortably sleep up to 10 guests.
Amenities include a fully equipped kitchen with open dining and living room, two full baths, washer and dryer, wireless internet and TV/DVD, and a large fireplace. Outside there is a fire pit for roasting marshmallows, a gas grill, and a wrap-around porch perfect for relaxing with family or friends.
Potter County Gasthaus
194 Clara Road
Shinglehouse, PA 16748
814-698-2625
---
The Towers Victorian Inn
Located in Ridgway's "Lily of the Valley" National Historic Register District, the Towers is a stunning Italianate mansion built in 1865 by lumber baron Jerome Powell. Our six beautiful guest rooms are appointed with period wallpapers and antiques and all include private baths and air conditioning. We'll help you plan your visit, whether you are looking for rest and relaxation or searching for adventure. While the main house is adult oriented, we also have a two bedroom condo-style carriage house unit that is family-friendly. Our rates include a complete breakfast buffet with home baked goodies, and other amenities such as complimentary beverages and snacks.
The Towers Victorian Inn
330 South Street
Ridgway, PA 15853
814-772-7657
---
NEARBY IN NEW YORK
Enchanted Valley Inn
This home was originally built in 1885, and now functions as a Bed and Breakfast. There are four bedrooms with bathrooms in each room. This is also the perfect venue for any event for your family, friends, coworkers, or employees.
Enchanted Valley Inn
35 Temple Street
Portville, NY 14770
(716) 378-4094