Bradford Chocolate Factory
Old Fashioned Favorites – Chocolate Makes Everything Better!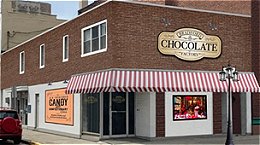 Located within Bradford's National Historic District, the Bradford Chocolate Factory is located at 72 Main Street on the corner of Main and Chestnut Street in Bradford, Pennsylvania.
The Bradford Chocolate Factory offers many old-fashioned favorites once found in the candy stores that lined Bradford's Main Street in times past. The store features old fashioned sponge candy, rock candy from Deselle's Candies, award-winning fudge, barrels full of old-fashioned candies and so many more delectable options to choose from.
Chocolatier Pascarella has been perfecting his sweet and tasty treats for more than two decades. Over 200 differing types of confectionary delights are displayed in their old-fashioned candy counter. Old fashioned soda flavors are also available.
Stroll down memory lane as you explore the Bradford Chocolate Factory's wall of memorabilia showcasing Bradford's candy store history.
Hours
Monday – Saturday: 11 am to 7 pm
Bradford Chocolate Factory, LLC
72 Main Street
Bradford, PA 16701
814-270-2626