Guided Tours in the Forest Region – Motorcycle, Bike, Boat
Kinzua ADVentures on 204 Bolivar Drive in Bradford, Pennsylvania, offers winter excursions by snowmobile during the snow season, and during the spring, summer and fall, four different guided tours by motorcycle, along with boat tours of the Allegheny Reservoir on a 21-foot jet boat.
Book a special outing that is tailored just for you with Kinzua ADVentures and live this once in a lifetime opportunity to see and experience our area as only locals can.
Four exciting motorcycle tours, with each ride being approximately 150 miles through the rugged beauty of the Allegheny National Forest Region are available. You can choose dirt or paved roads, or a combination of both. Rides will showcase local points of interest including scenic byways, the amazing Kinzua Sky Walk, and the Kinzua Bridge Visitors Center, and of course, local restaurants.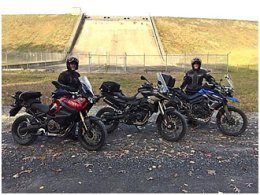 Bring your own bikes and tour groups can be up to six people. All sizes starting from 250 cc to adventure bikes are welcome.
Boat tours are approximately three hours in length, on the Allegheny Reservoir, where you can view the stunning vistas around the Kinzua Dam, the marinas, and depending on the water level, a boat ride up the Allegheny River.
Call now to book your tour with local guides Dave or Tony.
Kinzua ADVentures
204 Bolivar Drive
Bradford, PA 16701
814-331-1097
dlunden@verizon.net