Favorite for Ice Cream, Pick Up Dinner, Or a Quick Bite
Papa Scoops, 58 W. Washington Street, Bradford, Pennsylvania, offers a full menu of burgers, fries, sandwiches, homemade food, and a daily $5.00 lunch special. Tuesday is Beef on Wick and Wednesday is Rigatoni. Monday & Thursday specials change, and then on Friday the lunch special is a Fish Sandwich. After 4 p.m. on Fridays they offer a delicious fish dinner for only $9.95. Watch their Facebook site for other specials.
Be sure to check out their extensive offerings of ice cream – 59 flavors! Plus, they offer a variety of no sugar added and lactose free ice cream choices.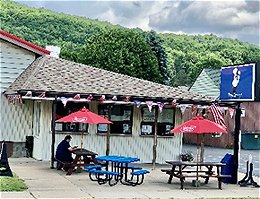 Order online for fast and convenient pick-up.
Papa Scoops
58 W. Washington Street
Bradford, PA 16701
814-368-3904
See Us on Facebook