The Forest Region Offers 100+ Miles of Off Road Challenges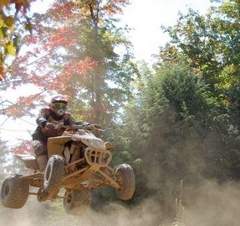 Allegheny National Forest has more than 100 miles of ATV trails. The riding season runs from the Friday before Memorial Day through the last Sunday in September. Winter season runs from December 20 to April 1.
Please contact the Allegheny National Forest Supervisor's Office for details:
4 Farm Colony Drive
Warren, PA 16365
814-728-6100
Online Application for ATV Permit for riding on the ANF

The following trails are within the Allegheny National Forest:
Marienville ATV/Bike Trail on State Route 66 east of the town of Marienville.
Timberline ATV Trail, accessed from State Route 948, north of Ridgway (also connects to the Marienville ATV Trail).
Rocky Gap ATV Trail, accessed from Township Road 3005, southeast of Warren.
Willow Creek ATV Trail on the eastern side of the Allegheny Reservoir, just south of the New York State line. Closed during the winter season.
Majestic Kamp and Lost Trails
Enjoy ATV, Dirt Bike, and Motorcross riding year 'round. Two loop trails with hill climbs, curves, and mud total over 38 miles, and are located on nearly 940 acres. Day or Annual Trail Fees.
A motorcross play area is available along with lodging choices of a log cabin, cabin, bunkhouse or RV and tent campsites. Trails have two riding levels – intermediate and expert. Located east of Bradford, Pennsylvania, along Route 46 in Rew.
www.majestictrails.com
Call for more information: 814-465-9979
Other trail opportunities
Many other ATV riding opportunities exist across the Forest region on public and private lands. Call the Allegheny National Forest Visitors Bureau for more information: 1-800-473-9370