HISTORY, OUTDOOR ADVENTURE, TIMBER & THE ARTS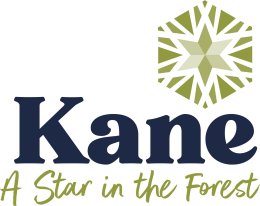 Kane, located in northwestern Pennsylvania, is located at the southeastern tip of the Allegheny National Forest. A Pennsylvania Route 6 Heritage Community, Kane was settled in 1864 by General Thomas L. Kane, Commander of the famous Civil War "Bucktail Regiment, and the builder of the Kinzua Viaduct.

Art in the Wilds, the #1 premier fine arts show of the PA Wilds Region is held in Evergreen Park every year in June. Year round, Art on the Summit offers handcrafted treasures in their downtown shop.

The Knox & Kane Rail Trail, the Longhouse National Scenic Byway, the North Country Trail, and the new mountain bike trail – Jakes Rocks -are all easily accessible from Kane.

Kane produces the finest black cheery timber in the world. Table 105 and Logyard Brewery have décor, food, and brews which honor this great natural resource. Foodies will enjoy tasting and touring the wineries, restaurants, the brews and spirts crafted locally. CJ Spirits creates the only Leek Vodka in the world. Bell's Market, an old-fashioned grocery store is a must stop for tasting.

Overnight accommodations are available including the Kane Manor, once the home of the Kane family, which is now open as a Bed & Breakfast

Kane Borough
112 Bayard Street
Kane, PA 16735
Borough Manager: 814-837-9240

Kane Area Development Center