Outfitters & Equipment Rentals
Everything You Need for Your Forest Region Adventure!
You've packed your clothes and sunscreen, but there are some things that won't fit in that suitcase – like scooters, ATVs, bikes, kayaks and canoes. We've got you covered with some go-to places for outdoor equipment, clothing and gear to make your next outdoor adventure the best it can be.
Allegheny Site Management
Operating 20 locations throughout the Allegheny National Forest, ASM offers tent and RV camping, as well as cabins and boat rentals, to accommodate all of your recreational needs.
Rentals
Boats, kayaks and canoes are available at Willow Bay and Kiasutha. For prices, call Willow Bay Ticket Booth: 814-368-4158; or Kiasutha 814-945-6511.
Reservations for campgrounds can be made through www.recreation.gov via telephone or Internet. The toll-free number: 1-877-444-6777 TTY.
Allegheny Site Management
4001 W. Washington Street
Bradford, PA 16701
814-368-4158
---
Majestic Kamp & Lost Trails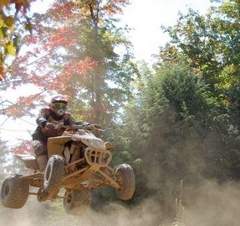 Miles and miles of legal ATV and dirt bike trails open year round at Majestic Kamps & Lost Trails in Rew, Pennsylvania.
Trails are well groomed, wooded and hilly. Located in northwestern Pennsylvania, east of Bradford, in the middle of the majestic Allegheny Mountain Region.
Privately funded, privately-owned ATV trails and campsites. Ask us about ATV rentals and ATV guided tours.
Currently offering two-loops with over 35 miles of wooded technical trails.
Motocross play area, Wilderness camping, Pee Wee Motocross track.
Snowmobiles and dirt bikes welcome.
Approximately 2 hours from Buffalo, Erie, Rochester and Ohio.
***Just ask for the "Majestic Trails Packages" when booking your reservation!
Call ahead to check schedule of special events including upcoming Dice Runs.
BOOK IT NOW!
ATV Trail Riding
ONLY $15.00 per bike
Seasonal packages available.
Majestic Kamp & Lost Trails
814-465-9979
fitchhill@comcast.net

www.majestictrails.com