Picnic Pavilion at Kinzua Bridge State Park
Spectacular Venue for Family Reunions or Large Group Outings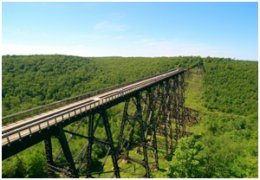 If you're looking for a spectacular venue for your family reunion or large group outing, look no further than Kinzua Bridge State Park near Mt. Jewett, Pennsylvania. Here you can gather in the great outdoors with friends and family at your own picnic pavilion while pondering the dramatic backdrop offered by the Kinzua Viaduct.
Advertised in the 1880s as the eighth wonder of the world at 2,054 feet long and 301 feet high, the Kinzua Viaduct was partially destroyed by a tornado in 2003. In 2011, this engineering masterwork was reinvented as a new pedestrian walkway where visitors can walk the "Tracks Across the Sky."
A picnic pavilion makes a great home base for leisurely strolls 600 feet out onto the Sky Walk, where you can gaze across miles of breathtaking scenery, view mangled support towers, and peer down into the Kinzua Gorge through a glass floor at the end of the walkway.
The pavilion provides a welcome shelter from the sun and weather between expeditions over meandering trails, including the General Kane Trail, throughout the 329-acre Kinzua Bridge State Park. Swap adventure stories during meet-ups at the pavilion as you grill lunch over charcoal flames and knock back your favorite soda with the kids.
The pavilion features electrical outlets, charcoal grill, and a facility for the safe disposal of charcoal. Clean restrooms are nearby. If a pavilion doesn't suit your style, there are plenty of picnic tables in the area to use at no charge.
Don't leave your mountain bike behind… The Kinzua Bridge Scenic Byway is a designated shared use hike / bike corridor. The area's rugged hills offer a worthy challenge for casual and serious dirt riders.
The pavilion can be rented from April 1 to October 31 by calling 888-PA-PARKS. The weekday charge for residents is $47; for non-residents $71. The weekend charge residents is $67; for non-residents $91. Payment can be made using MasterCard, VISA and Discover credit cards.
Available Now – Kinzua Bridge Skywalk Lighter
Rekindle fond memories of your visit to the Allegheny National Forest region with this Kinzua Bridge Skywalk Lighter, made in the USA by Zippo. With every light, you'll spark new opportunities to regale friends and family about your adventure in Kinzua Bridge State Park.

You'll be reminded of the Sky Walk, a wooden walkway that provided you with a panoramic view of the Kinzua Creek Valley and the steel rubble from the bridge — once the highest railroad span in the world — and the glass floor at the valley end of the walkway that enabled you to see the support towers and the trees and vegetation below.

This keepsake is yours for $29.95 plus shipping and handling. Pennsylvania residents charged 6% sales tax. Order Now