National and International Award Winning Wines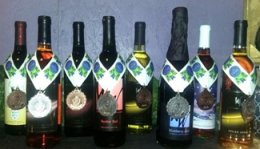 The Winery at Wilcox on 202 Marvin Street in Wilcox, Pennsylvania, is nestled in the mountains of the Allegheny National Forest. Find over 30 different and top quality wines: dry or sweet, red or white, fruit or grape. Tour the winery and discover beautiful wine accessories in the gift shop.
Choose from an ample list of national and international award winning wines while enjoying a comfortable and cozy atmosphere. Wines range from dry, oaked, Cabernet, to sweet blackberry dessert wine, and everything in between. Taste these locally grown and produced wines that are crafted for residents, but which leave aficionados both surprised and delighted.
After a wine tasting and tour browse the gift shop that is filled with many wonderful wine related items and beautifully filled baskets and other gift ideas. On a hot summer day enjoy outdoor tent seating.
Group Tours with advanced reservations are welcome. The tasting room can accommodate up to 50 people.
Hours
Monday-Saturday: 10 am – 8 pm
Sunday: 12 pm – 5 pm
Winery at Wilcox
202 Marvin Street
Wilcox, PA 15870
814-929-5598
info@wineryatwilcox.net