Enhance Your Vacation with a Personal Guide
Get the most out of your vacation in the Allegheny National Forest region with knowledgeable, experienced local tour guides.
Fin & Fly Adventures
Join Brian Minich, owner, operator and guide for the vast number of tours hosted through Fin & Fly Adventures, at 2639 Scandia Road in Warren, Pennsylvania. Fin & Fly Adventures is a fly fishing and terminal tackle fishing guide service covering the Allegheny National Forest Region in northwestern Pennsylvania and the southern tier of New York.
The seasons of Fall and Winter are for guide services. Each guided trip includes a lesson on the history of fly fishing, rod assembly, gear overview and casting practice. Guided trips include fishing gear; angler must have proper fishing attire and fishing license. Lunches included on full day trips. These are very laid back and relaxing trips that are perfect for just enjoying a day on the water.
Fin & Fly Adventures
2639 Scandia Road
Warren, PA 16365
814-598-7035
minich83@yahoo.com
FinandFlyAdventures.blogspot.com
See Us on Facebook
---
Kinzua Fly Fishing School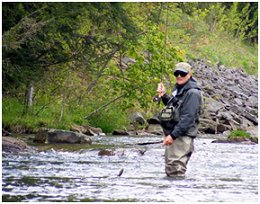 The Kinzua Fly Fishing School on 44 Parkview Avenue in Bradford Pennsylvania, has been teaching fly fishing classes within the Allegheny National Forest Region for 23 years.
Book a two or three day session in the heart of the Allegheny Mountains and learn fly tying, fly casting, and fly fishing techniques, with nymphs, wets, streamers and dry flies. All beginners and intermediate anglers ages 12 and up are welcome. Let the experienced Kinzua Fly Fishing team teach you new skills, without the headaches and frustration that often go hand-in-hand.
Kinzua Fly Fishing School
44 Parkview Avenue
Bradford, PA 16701
814-368-5814
skvarka@penn.com
www.kinzuaflyfishingschool.com
---
Kinzua ADVentures
Kinzua ADVentures on 204 Bolivar Drive in Bradford, Pennsylvania, offers winter excursions by snowmobile during the snow season, and during the spring, summer and fall, four different guided tours by motorcycle, along with boat tours of the Allegheny Reservoir on a 21-foot jet boat.
Book a special outing that is tailored just for you with Kinzua ADVentures and live this once in a lifetime opportunity to see and experience our area as only locals can.
Four exciting motorcycle tours, with each ride being approximately 150 miles through the rugged beauty of the Allegheny National Forest Region are available. Boat tours are approximately three hours in length, on the Allegheny Reservoir, where you can view the stunning vistas around the Kinzua Dam, the marinas, and depending on the water level, a boat ride up the Allegheny River.
Kinzua ADVentures
204 Bolivar Drive
Bradford, PA 16701
814-331-1097
dlunden@verizon.net
---
Majestic Kamp & Lost Trails – ATV Guided Tours
Miles and miles of legal ATV and dirt bike trails open year round at Majestic Kamps & Lost Trails in Rew, Pennsylvania.
Trails are well groomed, wooded and hilly. Located in northwestern Pennsylvania, east of Bradford, in the middle of the majestic Allegheny Mountain Region.
Privately funded, privately-owned ATV trails and campsites. Ask us about ATV rentals and ATV guided tours.
Currently offering two-loops with over 35 miles of wooded technical trails.
Approximately 2 hours from Buffalo, Erie, Rochester and Ohio.
BOOK IT NOW!
ATV Trail Riding
ONLY $15.00 per bike
Seasonal packages available.
Majestic Kamp & Lost Trails
Route 46, PO Box 94
Rew, PA 16744
814-465-9979
fitchhill@comcast.net
www.majestictrails.com
---
Sherk's Guide Service
At the age of 4, Steve Sherk went hunting for the first time. His Dad took him grouse hunting. Ever since that day, Steve found his favorite thing to do in life.
Hunters can expect an awesome experience hunting some of the nicest whitetails in the Eastern U.S. Most of the clients continue to book every year. Meals and Lodging packages are offered to their fully guided hunters.
Sherk's Guide Service
Call or Text:
814-558-0696
info@sherksguideservice.com
www.sherksguideservice.com
See Us on Facebook
---