Cool Town, Warm Heart – Home of the Zippo Lighter
Bradford, Pennsylvania is nestled in a valley, located 12 miles east of the Allegheny National Forest, south of the Allegany State Park.
Download Bradford National Historic District Walking Tour Brochure
Known far and wide for it's most famous invention – the Zippo lighter – and its abundant snow fall during the winter, this city is a cool town with a warm heart!
From "Littleton" to the City of Bradford
Lumbering was the first industry,and what is now Bradford was once known as "Littleton".
The discovery of the rich oil field "The Bradford Sands" changed Bradford from a little village to a bustling oil metropolis in the early 1900's. The diverse architecture lining Main Street is evidence of the oil boom days. The majority of buildings were built, designed and constructed between 1880 and 1920 by several regionally prominent architects and master builders.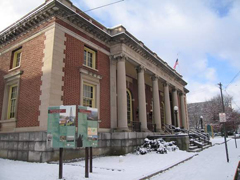 William Hanley's bricks the "Bradford's Reds" became the brick of choice throughout the region in the early years of the twentieth century. Old City Hall, built in 1897, one downtown's most recognizable landmark was designed by noted architect, Enoch Curtis. The Hooker Fulton Building was officially opened on Nov. 2, 1931, it is considered by many as one of the prime examples of Art Deco architecture in Pennsylvania.
Fall Foliage is spectacular within the Allegheny National Forest, we have the world's premier black cherry hardwood forest, and during the Fall our spectrum of color is unsurpassed. Color is the best during the first two weeks of October. Fall is bigger here!
McKean County — Trail Central!
Welcome to the Tuna Valley. Bradford is the perfect central location to start your trail adventure.
The Marilla Trail System, an interconnecting system of five trails of varying difficulty, is located just 5 miles west of the city along Route 346. These trails feature raised walkways, vistas along the shoreline of the Marilla Reservoir, old growth forests, bird watching opportunities and a beautiful wooden covered bridge.
Marilla Bridges Trail, Marilla Springs Trail, Indian Pipe Trail, White Pine Trail and the Hidden Valley Passage offer a wide variety of experiences for the novice or accomplished hiker. Opportunities abound to view wildlife – deer, squirrel, grouse and turkey – one might even spy the occasional American Bald Eagle soaring overhead.