Motorcoach & Group Friendly Attractions
"You're on the Trail to Something Big" when you plan your trip to the Allegheny National Forest Region. Visit one of the top 10 most beautiful skywalks and scenic vistas in the world – the Kinzua Sky Walk. Enjoy the scenic beauty of the Allegheny National Forest Region along the National Longhouse National Scenic Drive and Pennsylvania Route 6.

Fun activities such wine, brew or spirit tasting, baking with a pastry chef, an agricultural tour and tasting at a distiller, or a guided hike, or history program at the world famous Kinzua Sky Walk at the Kinzua Bridge State Park.

New adventures include "Evening at the Museums" for those staying overnight in Bradford, a choice of two exclusive evening programs can be booked for your group at either the Zippo/Case Museum or the Marilyn Horne Museum.

For personalized assistance with group tour planning please call 1-800-473-9370 or email info@visitANF.com

Trip Planning Tools

Kinzua Sky Walk – Form to Request FREE Group Tour Program

Educational Resource Guides for School & Educational Travel
---
Kinzua Sky Walk at Kinzua State Park – One of the World's Top 10 Scenic Skywalks & Overlooks
Day use-park open from 8 am to sunset. Visitors Center open from 8 am to 6 pm daily. Free Admission to the park and to walk on the skywalk.The Visitors Center at the Kinzua Bridge State Park features 2 floors of exhibits on the history of the original Kinzua Viaduct and on the three E's – energy, engineering and the environment. Groups are requested to pre-register.
Kinzua Sky Walk – Form to Request FREE Group Tour Program
A variety of group programs are available, including the popular "History of the Bridge." Park programs are at no charge but must be pre-scheduled using the form above.
Options include a visit to the park with a walk on the Skywalk, or a personalized educational program presented by park staff.

Hours
Kinzua Bridge State Park is open from 8 am to dusk daily. Free Admission.


Kinzua Bridge State Park Visitors Center *
8:00 am to 6:00 pm, 7 days a week. Closed Christmas Day & New Years Day.

* Please call ahead for the Visitors Center hours as they are subject to change. 814-778-5467

Kinzua Bridge State Park
296 Viaduct Road
Mt. Jewett, PA 16740
814-778-5467
kinzuabridgesp@pa.gov
---
Longhouse National Scenic Byway – Allegheny National Forest
Chosen by USA Today as "The Most Scenic Byway in Pennsylvania," the Longhouse National Scenic Byway circles the shorelines of the Allegheny Reservoir. Viewpoints include Rimrock Overlook, Jakes Rocks, Kinzua Point and the Kinzua Dam.
Step-On-Guide service is offered by the Bradford Ranger District. Guided walks and short tours in and around the overlooks make great stops especially during fall foliage season, Rt. 59, to Bradford Ranger Station, along Rt. 59 to developed overlooks, then south on Rt. 321 to Kane.
The Old Powerhouse, and the historic gravesite near the Red Bridge Campground are historic talking points. Prime fall foliage is traditionally the first two weeks of October. An educational resource guide with planned activities is available.
Ranger Station Hours: Monday – Friday 8 am to 4:30 pm
Bradford Ranger Station – Allegheny National Forest (ANF)
29 Forest Service Drive
Bradford, PA 16701
Office phone:
814-363-6000
Group Tour Contact:
Lauren Bartl
lauren.bartl@usda.gov
814-363-6011
---
Local Attractions
John Williams European Pastry Shop – Bake & Take
Bring your group to enjoy a hands-on experience baking a delicious pastry in the kitchen with pastry chef Joe Frombach at John Williams Pastry Shop. Half will be baking, while the other half enjoys a delicious luncheon. Switch places, then take your pastry treats with you on the bus!
Restaurant Reservation.
Groups, with advance reservations, may also book the restaurant for a breakfast buffet or luncheon at this family-owned restaurant for motorcoach groups. Outdoor seating in season. The pastry shop at the bakery offers fresh baked European pastries, decorated cookies, plus a variety of specialty loaves of bread for purchase. Two local favorites are Swedish Rye & Salt Rising Bread.
Groups of 12 to 20.
For smaller groups, or friends & families, book an evening baking with Joe in his kitchen creating delicious take-home treats. A fun idea for birthday parties, family get-togethers, and seasonal holiday baking. Create, bake and decorate your treats to take home.
John Williams European Pastry Shop
20 Mechanic Street
Bradford, PA 16701
814-362-6637
---
Kane Manor Inn – Mansion on the Edge of the Allegheny National Forest
Located on the edge of the Allegheny National Forest, Kane Manor Inn at 230 Clay Street in Kane, Pennsylvania, awaits your arrival. A national historic landmark built by General Thomas L. Kane, the Inn sits on top of the Allegheny Plateau, and has a perfect view of the forest and countryside.
Groups and bus tours, please call for additional information regarding catered luncheons at the Inn. They also can host bridal & baby showers, weddings, and other gatherings.
Kane Manor Inn
230 Clay St.
Kane, PA 16735
814-837-6522
kmi@kanemanorinn.com
www.kanemanorinn.com
---
Old Town Smethport
Step Back in Time! Tour the historic exhibits which include a real stagecoach and a Civil War cannon. Shop the old-fashioned General Store and then dine at the Cottage House Restaurant & Winery. Only a 20 minute drive from the Kinzua Sky Walk. Stop by for lunch, or a cocktail & dessert on your way home!
Group Tours & Motorcoach welcome with advance notice.
Hours
Tuesday to Saturday: 11 am to 9 pm
Old Town Smethport &
Cottage House Restaurant & Winery
113 S. Water Street
Smethport, PA 16749
814-568-2091
oldtownsmethport@yahoo.com
---
Olmsted Manor – Tours, Lodging, Retreats
Tour Olmsted Manor and their beautifully landscaped grounds. A Tour Guide will take 12 persons at a time through the original 1917 mansion, larger groups can rotate tours. Meals can be arranged for up to 56 guests. Their Meeting Room is organized in lecture style with tables and seating for up to 70 guests. The Retreat Center facility is available for groups, family gatherings/reunions, plan a retreat or their staff can help plan one for you. Lodging is 26 rooms: 18 hotel style rooms in Groves Lodge, 8 guest rooms in the Manor House. Optional Activities: hikes, picnics, bonfire/some-mores, game nights and more.
Office Hours:
Monday – Friday 9 am to 5 pm
Olmsted Manor & Retreat Center
17 E. Main Street
Ludlow, PA 16333
Office: 814-945-6512

https://www.olmstedmanor.org/about

Group Tour Contact: Al Manner – Executive Director
Al@OlmstedManor.org
Group Tour Number: 814-945-6512 Ext. 11
---
Zippo/Case Museum – Home of Two American Icons
The Zippo/Case Museum features world-class interactive exhibits, an extraordinary 7'x 11' American flag comprised of 3,393 red, white and blue lighters, and the famous Zippo Repair Clinic where the Zippo lifetime guarantee is fulfilled.
Free admission for day tours. Free Parking.
New for Groups- Evening at the Museum
Zippo/Case Museum Hours
Monday – Saturday 9:00 am to 5:00 pm
Sunday – 11:00 am to 4:00 pm
Closed New Years, Easter, Thanksgiving and Christmas
Zippo Lighters and Case Knives
1932 Zippo Drive
Bradford, PA 16701
814-368-2700
museum@zippo.com
visitanf.com/zippo-case-museum/
---
Local Museums
Eldred World War II Museum – History You Can See, Touch and Feel
Designed to educate and awe visitors of all ages, this museum located in the small town of Eldred houses world-class interactive exhibits and artifacts from around the world. Personalized tours will be given by their knowledgeable curator who will customize the tour to your groups' age & interest. Highlights include a M255 tank, a working submarine periscope, the Gallery of Valor, Jeep exhibit and tank mountain. Currently Closed Due to COVID-19.
Hours
January – March
Tuesday – Friday: By Appointment
Saturday: 10:00 am to 4:00 pm
April – December
Tuesday – Saturday 10:00 am to 4:00 pm
Sunday: 1:00 pm to 4:00 pm
Group Tours Available by Reservation.
Eldred WW II Museum
201 Main Street, Eldred, PA 16731
814-225-2220
info@eldredww2museum.org

www.eldredPAww2museum.com
---
Marilyn Horne Museum & Exhibit Center – America's Grand Dame of Operatic Stage
The Marilyn Horne Museum and Exhibit Center showcases highlights from the personal archive of legendary opera singer Marilyn Horne. Located in Bradford, Pennsylvania's National Historic District, the 3,400 sg. ft. museum is housed in a six-story, circa 1932 Art Deco building. Collection highlights include costumes, interactive audio and visual exhibits, and a documentary film shown in a sumptuous theater designed to evoke the ambience of Venice's famed
Teatro la Fenice
.
Looking for something special? High Tea at Marilyn Horne Hall is the perfect afternoon for groups from 10 to 48 participants. The buffet-style event offers a traditional menu of high tea favorites. Dine in a private space while listening to a backdrop of classical music. Then join the museum's docent for a presentation before touring the exhibition. Each guest receives a small gift before departing.
Additional Information.
Free motorcoach parking. New "Evening at the Museum" dine in the opera house, craft a Venetian Mask. They can customize an experience for your group. Café and Gift Shop on-site. Downtown location near shopping, dining and lodging. Free Admission. Open year-round (excluding major holidays).
Marilyn Horne Museum Profile Sheet
Hours
Monday-Saturday: 9:00 am to 5:00 pm
Sunday: 11:00 am to 4:00 pm
Booking Information
Matthew Hileman
Museum Manager
814-362-7990
info@marilynhorne.org
---
Penn Brad Oil Museum – Discover Oil! World's First Billion Dollar Oil Field
Hear the "Wild Catting Tales" at the site of our 72 foot tall, 1890 Era Standard Rig. See yellowdogs and barkers, headache posts, hurry-up sticks and sucker rods. In 1881, the Bradford Oil Field produced an incredible 83% of the United States total oil output. Groups Welcome. Please call ahead to schedule motorcoach or student field trips.
Admission
Adults: $5.00
Seniors: $4.50
Children under 12: FREE
Hours
Tuesday – Friday: 9 am to 4 pm
Sunday – Monday: Closed
Penn Brad Oil Museum
901 South Avenue (3 miles south of Bradford on Rt. 219)
Bradford, PA 16701
814-362-1955
pennbrad.oilmuseum@yahoo.com
Group Tour Contact: Fran Bottone
pennbrad.oilmuseum@yahoo.com
---
Bradford Brew Station – First "Legal" Brewery in Bradford Since 1945
The Bradford Brew Station offers 14 taps with 13 different beers crafted in house. A musical bingo night with a variety of themes is held on Wednesday. The brewery decor pays tribute to Bradford's Oil Boom Days, with many of the brews and innovative food offerings featuring names such as Yellow Dog or Black Gold. Brewing equipment may be viewed from the dining room.
The dining room seats 85 people, with additional seating on the seasonal outdoor patio. Meals & tasting can be scheduled for groups and motorcoach. Free Bus Parking can be arranged for your group. The brewery is within walking distance of the Best Western Plus Bradford Inn.
All Tours & Tastings for Groups/Motorcoach must be pre-arranged.
Hours
Wednesday & Thursday: 3:30 pm to 10:00 pm
Friday: 3:30 pm to 11:30 pm
Saturday: 11:00 am to 11:30 pm
Sunday: 11:00 am to 8:00 pm
Bradford Brew Station
104 Chestnut Street
Bradford, PA 16701
To Arrange a Tour, contact:
814-368-3137
bradfordbrewstation@gmail.com
www.bradfordbrewstation.com
See Us on Facebook
---
CJ Spirits – Handcrafted Spirits from Grain to Glass
The spirits of northwestern Pennsylvania's first craft distillery can be enjoyed by scheduling a tour of the distillery with a tasting. Fashioned from the purest Allegheny Mountain spring waters and locally grown grains their craft selection of fine spirits include whiskey, gin, rum and Rocksov vodka.
Order a tasting menu to complement the spirits or have fun and order one of their signature cocktails. A local favorite is their leek vodka Bloody Mary.
Please call ahead to schedule your tour and tasting.
Hours
Wednesday – Thursday: 11 am to 9 pm
Friday – Saturday: 11 am to 11 pm
Sunday: 10 am to 5 pm
CJ Spirits – Craft Distillery
120 Willow Run Drive
Kane, PA 16735
814-837-1500
cjspirits@gmail.com
www.cjspirits.com
---
Flickerwood Wine Cellars & Lounge – The Wine that Rocks
Stop, shop, taste and tour. Guests are treated to a tour of the wine cellars along with a wine tasting from the large variety of award-winning Flickerwood Wines produced by the Zampogna family.
Flickerwood's wine lounge has a warm welcoming atmosphere, they also offer a small wine-themed gift shop, and a selection of tasty menu items. Call for detailed information on scheduling your tasting tour.
Ask about their menu for groups that wish to dine on site. A schedule of their seasonal festivals and evening entertainment is available on their website.
Open seven days a week.
Flickerwood Wine Cellars
309 Flickerwood Road
Kane, PA 16735
814-837-7566
www.flickerwood.com
---
Theater and Performing Arts – Local Professional Performances
The Allegheny National Forest Region offers a wide variety of professional theater, musical and artistic performances.
The
Bradford Creative Performing Arts Center
presents a wide variety of national touring companies of professional artists and ensembles during their annual season at great ticket pricing.
The
University of Pittsburgh at Bradford Arts Program
is the cultural and artistic hub of the region, offering plays, concerts, dance recitals and art exhibitions mostly held at the Bromeley Theater.
Make this your inexpensive cultural hub by staying over to enjoy the nearby theater and artistic entertainment.
Other Performing Arts in the Allegheny Forest region
Marilyn Horne Museum Concert Series
Seneca Allegany Resort-Entertainment
---
Nearby Attractions
Lucy Desi Museum
Plan your visit to the Lucy Desi Museum, 2 West Third Street, Jamestown, NY and explore the lives, careers, and legacies of Lucille Ball and Desi Arnaz while immersing yourself in the ultimate fan experience with original costumes, props, awards, and exact re-creations of the I Love Lucy sets.
The Lucy Desi Museum features rare artifacts and re-creations of studio sets from the beloved TV sitcom I Love Lucy, including Lucy and Ricky Ricardo's New York City apartment and Hollywood hotel suite.
For pricing and hours please visit their website.
Lucy Desi Museum
2 West Third Street
Jamestown, NY 14701
716-484-0800
info@lucy-desi.com
www.lucy-desi.com
---
National Comedy Center – Celebrating the Art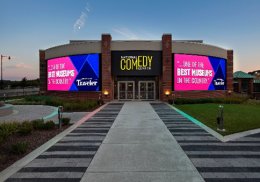 Comedy fans will enjoy the exclusive collections and world-class exhibits telling the virtual story of comedy in America.
Visitors will go on an interactive journey through comedy history, from early vaudeville acts to the latest viral memes. Cutting-edge personalization technology makes the entire experience unique.
Educational games and fun competitions, guests can step into the shoes of comedy pros, trying their hand at cartooning, comedy writing, live stand-up, and faux-pie fights.
For pricing and hours please visit their website.
National Comedy Center
302 W. 2nd Street
Jamestown, PA 14701
716-484-2222
www.NationalComedyCenter.org
---
Pfeiffer Nature Center & Foundation – Rural Landscapes, Old Growth Forest
Pfeiffer Nature Center, 1974 Lilibridge Road, Portville, New York, has open access hiking trails, a historic log cabin, great birding areas, and a picturesque pavilion available for rent. Located in rural southwestern New York, the Center is located on more than 648 acres of rural landscapes among old growth forest.
A variety of guided hikes and outdoor activities are scheduled throughout the year. The Woods, Walk & Trail Run is held every June. For a full list of scheduled activities please visit our website.
Pfeiffer Nature Center & Foundation
1974 Lillibridge Road
Portville, NY 14770
716-933-0187
www.pfeiffernaturecenter.org
---
Seneca-Iroquois National Museum – Learn About the Seneca-Iroquois People, Culture and History
The Seneca-Iroquois National Museum is dedicated to the honorable presentation of the prehistory, history, and contemporary culture of the Seneca-Iroquois people. A visit to the Seneca-Iroquois National Museum located at the Onohsagwende Cultural Center will allow you to experience a culture that was thriving long before history was put into words.
It's a history lesson and an experience that the whole family will love. Educational, school and group tours welcome with advance notice. Contact Hayden Haynes at
716-945-1760
or email
hayden.haynes@sni.org
.
Admission
Adults: $9.00
Children: $5.00
Seniors, College Students and Veterans: $4.00
Hours
Monday – Friday: 10 am to 4 pm
Seneca-Iroquois National Museum
82 West Hetzel Street
Salamanca, NY 14779
716-945-1760
info@senecamuseum.org
www.senecamuseum.org
See Us on Facebook
See Us on Instagram: @senecairoquoisnationalmuseum
---
Check out the full listing of upcoming regional events.