Flickerwood Wine Cellars & Cocktail Lounge
Family Built and Operated – Experience "A Taste of Heaven"
Flickerwood Wine Cellars, known as the Wine that Rocks, opened on Memorial Day Weekend 2000 with 3 employees and 4 varieties of wine. Now after 15 years we have about 15 employees, an additional location, and 27 varieties of wine. We are humbled by this and thank all of our wonderful clients over the years. Many of you have become extended family members.
We love wine and we love rock and roll. Our dad, Ron, the original FWC wine maker is the best drummer in the state. He has been playing drums since he was 12 years old and his current band will rock once a month as the house band at our winery. Our brother, Rick, the current FWC wine maker, is a rock star in his own mind. He is a lead singer in a rock band and can play the drums with the same rocking sound as our father.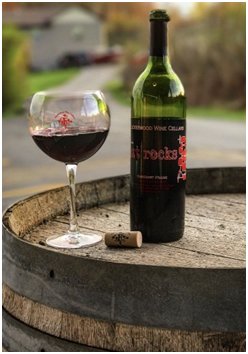 Our wine is made with high quality fruit and ingredients, and it is filled with rock and roll. When you visit one of our locations not only will you have award winning wines, but you might be entertained by one of our family members or family friends.
Our philosophy about wine is that it is just that, wine. For centuries it has been enjoyed by peasants and farmers to emperors and kings/queens. Our wine is made with extremely high standards and we want you to stop in one of our locations and sample it. We will find a wine that meets your needs and likes.
We have added a nice variety of liquor and beer to our already rockin wine list with the purchase of a Restaurant Liquor License. Ask for Rick's Bloody Mary, you won't be disappointed! We have expanded our food menu to include several hoagies and a grinder, including the Zampogna Family Meatball sub. Panini sandwiches and individual pizzas and pizza logs are also available along with the regular daily menu of appetizers. The kitchen is open whenever the winery is open so food is available for your enjoyment every day.
Finally, we are the Twisted Sisters of Wine, Rock and Food and we manage our two tasting rooms located in Chester County. We take rock and roll very seriously and add it to every aspect of our tasting rooms. Our wine rocks, the people are fun and the environment will welcome you.
So if you love wine, or you love rock and roll or you like both; stop in and taste the fruits of our labor. Become a member of the Flickerwood Wine Cellars family, who like to wine and rock and roll.
Hours
Monday: 12 pm – 5 pm
Tuesday & Wednesday: Closed
Thursday & Friday: 12 pm – 9 pm
Saturday: 12 pm – 9 pm
Sunday: 12 pm – 6 pm
Flickerwood Wine Cellars & Cocktail Lounge
309 Flickerwood Road
Kane, PA 16735
814-837-7566
info@flickerwood.com

www.flickerwood.com
See Us on Facebook