Have a Pleasant Stay – You're Always Welcome Back!
Whether on a business trip, family vacation or weekend getaway, the Forest region offers hotel and motel accommodations to suit every lifestyle and budget.
LOCAL
Best Western Plus – Bradford Inn
Your perfect "home base" for visiting the Allegheny National Forest region and its many attractions. The hotel is conveniently located within easy walking distance from the National Historic District of Downtown Bradford and its many restaurants, bars and charming shops. Nearby attractions include the Zippo/Case Museum, Seneca-Allegany Casino, hiking trails, Holiday Valley and Hollimont Ski Resorts, and the Allegheny National Forest.
Best Western Plus – Bradford Inn
100 South Davis Street
Bradford, PA 16701
1-800-344-4656
---
Comfort Inn of Bradford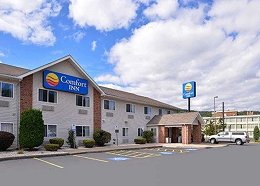 The Comfort Inn hotel is located one mile from the Zippo / Case Visitors Center, which showcases two American legends developed in Bradford: the Zippo lighter and the Case knife. The visitors center is comprised of the famous Zippo Repair Clinic, the Zippo / Case factory store and the Zippo / Case Museum, the most visited museum in Pennsylvania's northern tier.
Comfort Inn of Bradford
76 Elm St.
Bradford, PA 16701
814-368-6772
---
Kane Tourist Home & Motor Inn
Kane Tourist Home & Motor Inn at 80 Greeves Street, Kane, PA, is located just past the intersection of Route 66 and Route 6. Walk to the McCleery Wolf Center, the historic Kane Depot, and downtown for shopping, restaurants, Logyard Brewery and Twisted Vine Winery. Rooms 1-6 are equipped with a mini-fridge, coffee maker, and microwave. Rooms 7-10 are equipped with mini-fridges, coffee makers, and guests have access to a communal microwave in their lobby.
Kane Tourist Home & Motor Inn
80 Greeves Street
Kane, PA 16735
814-561-1049
---
Lantz Corners Getaway Lodging
Conveniently located at the intersection of RT 219 and RT 6, a central location for visiting the Kinzua Sky Walk and the Allegheny National Forest. Affordably priced, and newly renovated, the hotel is adjacent to the family friendly Barrel House Restaurant. Free Wi-Fi. Lots of free parking for your sleds, motorcycles, and trailers. Snowmobile rental packages, and group rates are available.
Onsite conference room can seat up to 40.
Lantz Corners Getaway Lodging
Intersection of Rt. 219 & Rt. 6 at Lantz Corners, PA
Mail address: 2952 Route 219
Kane, PA 16735
814-778-5391
---
Spoonwood Inn
Newly opened and renovated this 10 guest room hotel is located along Bicycle Route Y, 5509 Route 6 in Kane, Pennsylvania. A great location for touring the Longhouse National Scenic Byway or mountain biking the new Jakes Rocks Trail. Plenty of room for your boat, ATV, or snowmobile trailers. Motorcycle Friendly. Direct trail access for snowmobiling from your room.
Spoonwood Inn
5509 Route 6
Kane, PA 16735
814-561-1365
---
NEARBY IN PENNSYLVANIA
The Forest Lodge & Campground
The Forest Lodge and Campground on 44078 Route 66, just 6 miles north of Marienville, Pennsylvania, offers direct trail access for ATV, Dirt Bike, and Snowmobile enthusiasts.
Enjoy comfortable Knotty Pine Rooms with private baths and free Wi-Fi. All rooms offer microwave, refrigerator, and over 100 channels on Direct TV. Complimentary coffee and tea are available in the lobby.
Hours
Open year round, 7 days a week
The Forest Lodge & Campground
44078 Route 66
Marienville, PA 16239
814-927-8790