Marilyn Horne Museum & Exhibit Center
World Famous Opera Star – Marilyn Horne, Bradford Native
The Marilyn Horne Museum & Exhibit Center, located at 2 Marilyn Horne Way in Bradford, Pennsylvania, is an entertainment center featuring a museum and exhibit center, an assembly room, and a coffee/gift shop. The displays highlight the different phases of Horne's life and career.
Memorabilia on display include photographs, replica costumes, posters, and musical scores with handwritten notes.
Visual and musical exhibits line the walls, there are handsets on the wall where visitors can listen to Horne talking about her life, as well as a jukebox to hear the array of genres she has sung during her career – including more than just opera music.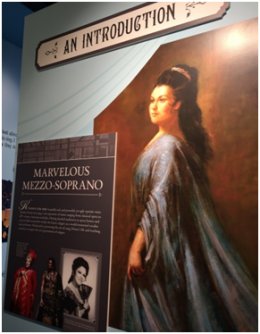 Groups and motorcoach welcome with advance notice.
Hours
Monday – Saturday: 9:00 am to 5:00 pm
Sunday: 11:00 am to 4:00 pm
Marilyn Horne Museum & Exhibit Hall
2 Marilyn Horne Way
Bradford, PA 16701
814-362-7990