Allegheny Mountain Arts Gallery
Original Art, Curios, Gifts & Artisan Workshops
Located at the northern edge of the Allegheny National Forest, two local artists, Rick Minard and Greg Souchik, have opened Allegheny Mountain Arts Gallery at 181 Main Street, Bradford, Pennsylvania.
The gallery features a wide variety of original art. Choose from an industrial rendition of the train that crossed the Kinzua Bridge, painted landscapes, portraits of famous musicians, and a diverse selection of striking modern art.
All items for sale are unique or handmade including a selection of jewelry, soaps, and a fun, handmade & artisan signed "I was at the Woodstock Mural" T-shirt which retails for only $19.95 + tax.
Artisan Workshops will be held throughout the year. To check dates and times
Click Here
.
Credit Cards Accepted. Shipping Available. Wide Range of Prices.
Gallery Hours
Tuesday – Sunday: Noon to 6 pm
Or by Appointment:
alleghenymountainartsgallery@gmail.com
Allegheny Mountain Arts Gallery
181 Main Street
Bradford, PA 16701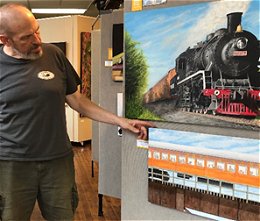 See Us on Facebook